UNESCO's Internet For Trust Conference brought together 4,300 participants in person and online across the world to discuss regulatory solutions to the ongoing crisis of online information.
The first ever such global conference witnessed speeches from UNESCO Director-General Audrey Azoulay, to the Brazilian President Luiz Inácio Lula da Silva and 2021 Nobel Peace Prize winner Maria Ressa underlined the urgent need for common global guidelines to improve the reliability of information while protecting human rights.
The Internet For Trust Conference serves as a high point in a global dialogue launched by UNESCO to develop first global guidelines for the regulation of social media to improve the reliability of information and promote human rights online.
The Organization involved all stakeholders: governments, independent regulators, digital companies, academia and civil society. The guidelines is expected to be launched by UNESCO in September 2023.
The Internet For Trust Conference opens with calls on digital companies to step up efforts against online harms.
With welcoming remarks by Audrey Azoulay, Director-General of UNESCO and an inspiring speech by Maria Ressa, Nobel Peace Prize and 2021 UNESCO/Guillermo Cano Press Freedom Prize, calling on digital companies to be part of the solution against content that is potentially damaging to human rights and democracy.
The long-awaited conference kicked off on February 22 at UNESCO Headquarters, while several others joined the two days conference online via zoom.
The opening of the event was also marked by messages from the Prime Minister of Iceland, H.E. Katrín Jakobsdóttir, and the President of Brazil, H.E. Luiz Inácio Lula da Silva.
A vivid discussion moderated by Carole Cadwlladr (The Guardian, The Observer), Felipe Neto, Maria Ressa and Melissa Fleming stressed the need for digital platforms to protect the public sphere and the information ecosystem from manipulation, hate speech, violence and other content that is damaging democracies and societies in unprecedented dimensions and speed. The debate also drew attention to the role of influencers, calling on them to come to the table and use their power to improve the quality of online information.
The opening was followed by a series of panel discussions with several participants highlighting the need to hold governments and regulators accountable following human rights standards. Comments from in person and online participants were taken during the sessions. Online participants connected from different parts of the world and there were comments from members of each multistakeholder group.
Marie Ressa, Novel Peace prize-winning journalist went on to caution that if we continue to tolerate social media algorithms which reward lies, future generations will inherit a world in which truth has been dangerously devalued.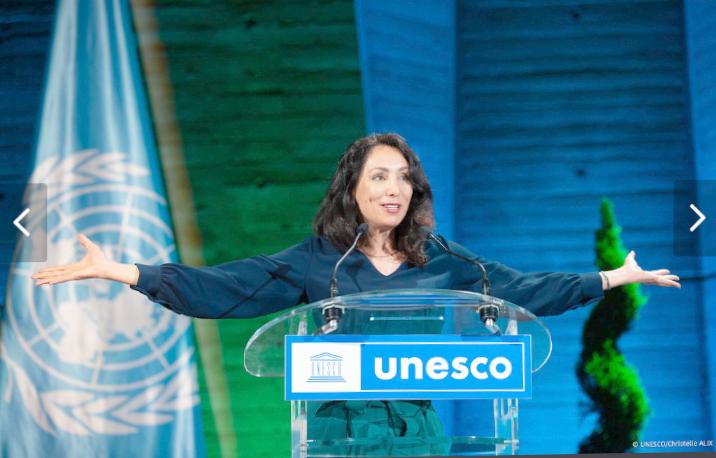 "Without facts, you can't have truth, without truth, you can't have trust, and we have no shared reality".
In his message to the Conference, the President of Brazil, Luiz Inácio Lula da Silva recalled the violent attacks on democratic institutions in Brazil on January 8.
The Director-General of UNESCO pointed out the proliferation of regulatory initiatives – at least 55 countries are working on these. But she advocated a coherent, global approach, based on human rights. "If these regulatory initiatives are developed in isolation, with each country working in their own corner, they are doomed to fail. Information disruption is by definition a global problem, so our reflections must take place at the global scale," she said.
YouTube influencer, Felipe Neto shared his own experiences with extremist content pushed by algorithms, as one of the world's most-subscribed content creators.
The Director-General closed by urging all countries to join UNESCO's efforts to transform the internet into a tool which is truly at the service of the public and that helps assure the right to freedom of expression; a right which includes the right to seek and receive information.
As part of its mandate, UNESCO had launched a global dialogue to provide guidelines for regulating digital platforms, to fight disinformation and hate speech and protect freedom of expression and human rights.