Barrister Abiola Abdulkareem, a House of Representatives aspirant on the platform of the All Progressives Congress (APC) has said that he is in the race to serve and better the lives of the people of Ekiti/Irepodun/Oke-Ero/Isin Federal Constituency.
Abdulkareem stated this on Wednesday during a chat with newsmen in Ilorin, the state capital.
The Osi-born real estate expert, popularly called Jagunlabi, emphasized that he is offering to serve the people of the Constituency because they deserve adequate and quality representation.
He noted that he is qualified to lead the people and would deploy his exposure and experience both home and abroad to attract development to his Constituency.
Re­affirming his commitment to serve the people of Ekiti/Irepodun/Oke-Ero/Isin Federal Constituency not for the interest of few politicians but for the interest of all people in the Constituency, Abdulkareem said he would continue to commit his resources to the development of his community.
He, however, called on delegates to go for an aspirant that is dynamic and vibrant with specific interest in what will benefit the people of the Constituency.
According to him, "I am eminently qualified. I am widely accepted and well loved by the people of my community for various reasons.
"I am young, I have the experience and what it takes to lead. I have lived in different countries where things are working before. I run businesses myself and I know what it takes to succeed. What really matter is the love you have for your people, the intention and the determination that you want to make a difference", he said
Speaking on his plans for youths and women of the Constituency, Jagunlabi said that part of his agenda is to set up a soft loan scheme. "It is not going to be a scheme that is meant for political gain or that after my tenure I am going to discard with. There would be a kind of microfinance bank where women can access loan.
"I want to leave a legacy, we need to find a way out where women can access this funds. I have been running Jagunlabi foundation for the past four years now, through sport we are doing a lot. We organise football tournament once every year, where we bring youths from different local government across the Constituency together. We do also invite ex-football internationals and past heros to see how we can develop talents and empower our youths on yearly basis.
"I have given scholarship to indigents students. Not too long ago, I shared about 200 JAMB forms, I paid for some students' WAEC fee through my foundation. We have some kids in both primary and secondary schools that we are paying their tuition fee.
"We know that there is little we can do from our slim pocket. I believe this position will give me that opportunity to be able to do much more than what I am doing presently.
"I have contributed immensely to the lives of my people. If we stay back and not participate in the electoral processes of this country you will allow the worst of us to govern the best of us. The consequences of my inaction will still be upon me. So, we cannot continue to sit back regardless of what they term politics", he added.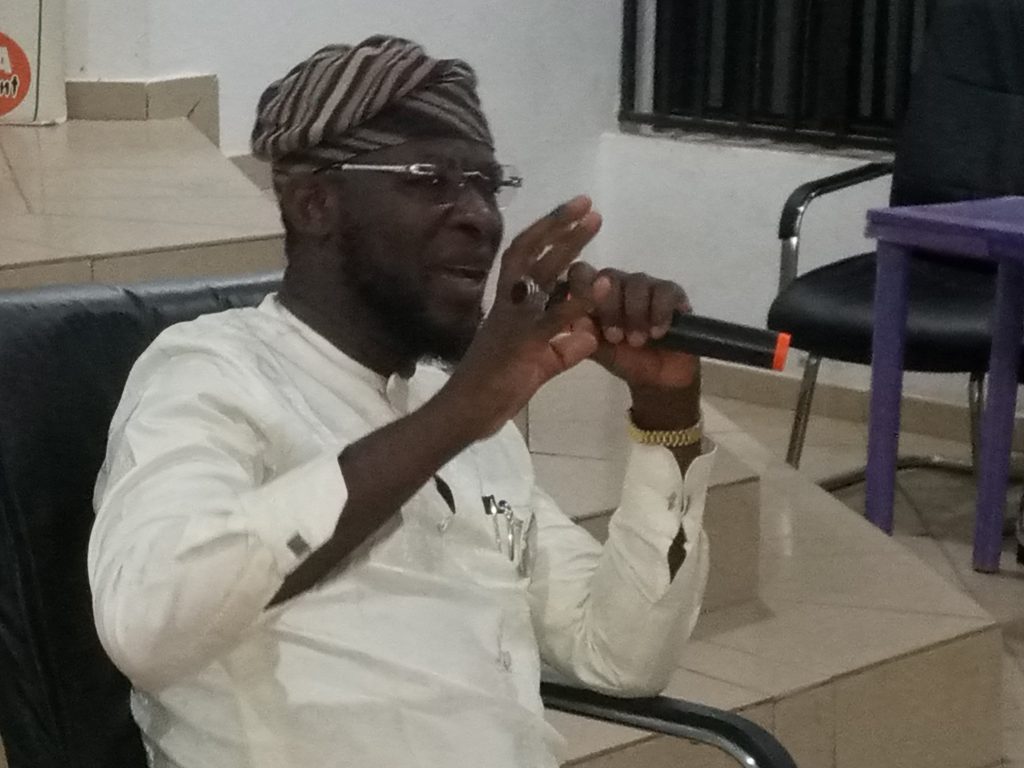 While given kudos to Governor AbdulRahman AbdulRazaq for given youths and women a sense of belonging, Abdulkareem said that the governor has encouraged and inspired youths and women to aspire for political offices.
"Having many numbers of people coming out to contest for elections is a product of O'toge movement, because people believed now that they have a platform where they can come out without having any godfather or knowing anybody like myself.
"In the past, not people of my caliber can come out to say I want to contest. If you are not from a well established family or from a known godfather it will be a very big challenge. But this government and our party at large have sent signal to very body that this state is for all of us. 
"If you have what it takes, if you are capable and you are credible you can join the contest. If you are good enough and you have what it takes to move the party forward you are welcome into the Party", he said.