Nigeria is made up of thirty-six states and each of the states has unique regions with the great historical antecedent. One of such region is Saki. Saki, a place in the heart of Oke-Ogun, is a town situated in the northern part of Oyo state, Nigeria.
Saki is one of the most ancient towns in Yoruba land. Some historians had argued that Saki was founded by Ogun, the eldest son of Oduduwa and this explains why it was initially called Ile Ogun. The historical fact behind this was that Lamurudu, the father of Oduduwa and his followers migrated to Niger area Bussau from Egypt, this was as a result of religious crisis. Ogun was on a journey, when he discovered that Saki was a small village and it was just like a hunter's camp. From Saki he went to Ibarapa, Lagos, Benin, Ife and again back to Saki.
Saki, the ruling town of Ogun was taken temporarily as a seat of government of Yoruba kingdom. Saki was the first settlement of Ogun and there he ended his life. This is why people usually say, Ogun is a stranger at Ire but a native of Saki.
A historian, Late Chief Ojo, the Bada of Saki gave the meaning of the town's name as "Sa-kiri", meaning 'a fleeing refugee'. The fleeing refugees, according to sources finally found a respite on the Asabari Hill located in the town. Hence, the 'oriki' (praise – name) of a Saki indigene is incomplete without the addition of 'Omo Asabari', (Son of Asabari').
Stance between Okekesi and his brother, Oranmiyan, who was the first Alaafin of Oyo; had led to the change of name from Ile Ogun to Saki. History has it that Okekesi had left Oyo Ile just after it was founded for Ile Ogun, because he quarreled with his cousin brother, Oranmiyan over a woman.
Oranmiyan had on three different occasions sent people to persuade Okekesi to return to Oyo Ile but he refused. Oranmiyan was quoted to have said "O nsa kiri ni" which means "he has constantly been on the run". It was therefore said that Saki was derived from this expression.
Originally part of the old Oyo Empire, Saki became a Yoruba refugee settlement after the Muslim Fulani conquerors destroyed the Old Oyo in 1835. For those who are unfamiliar with its history, Saki occupies a very important place among Yoruba towns.
Saki is about 184 kilometers North-West to Ibadan. It is situated in the Savanna land with scattered trees. An important stream called "Taba" flows through the town. It is this stream that supplied water to the citizenry of Saki throughout the year before the provision of pipe-borne water. The stream is still very useful until today.
Saki, which is the headquarters of Saki West local government, has a population of over 350,000 inhabitants. It is referred to as the food basket of Oyo state because of its agricultural activities.Saki has been known for raising cattle and growing yams, cassava, maize, sorghum, beans, shea nuts and okro for subsistence. It specialises in the exportation of cotton, swamprice, teak and tobacco.
Traditionally, the work of inhabitants in the olden days are blacksmith, goldsmith, farming, hunting and clay pot moldering. The town is prominent in the production of aluminum pots, widely referred to as Ikoko Irin.
Akinbekun was said to be the first king of Saki. He was the son of Oranmiyan whom Egilolo (daughter of Kisra, the king of Ibadan) bore to him. A very important event was attached to the period of Akinbekun as a king of Saki because the emergence of River-Ogun was as a result of conflicts between the Okere and his wife Modelewu. It was said that Akinbekun had a power garment that he used to wear to battle.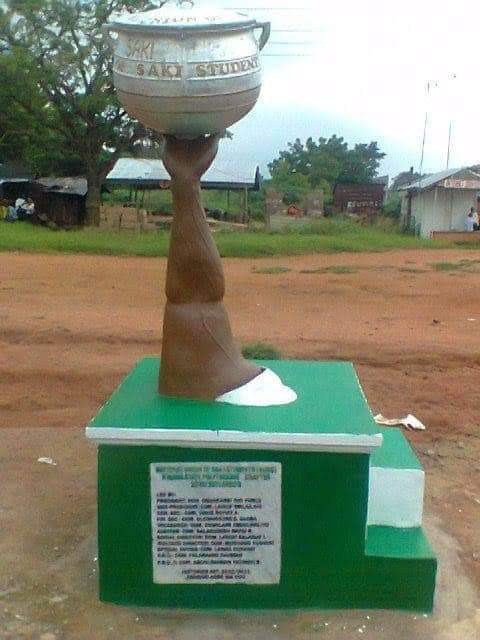 After wearing the garment Modelewu would pray for him and he would win the battle. The garment however, had a restriction, that it must not be beaten by rain and it must not be touched by a woman. On that particular occasion Akinbekun was not at home and he had dried his garment outside as the sun was blazing hot. Things turned around and it was about to rain.
Modelewu with her good heart helped him to pack it, immediately he felt it and got home in no time. Modelewu who had a heavy breast hated being insulted with it. When the king got back he rebuked and insulted her with her heavy breast. This caused her to leave the town and later went on to become the river Ogun near Iseyin.
Since that time, according to history, it has become forbidden for any reigning Okere of Saki, to look at the river while passing through it. The Okere of Saki is the traditional ruler of the town. The present Okere of Saki, Oba Khalid Olabisi Oyeniyi, was installed on 18th of December 2019 to replace Oba KilaniOlatoyese Ilufemiloye Olarinre, who died on Friday 5th April 2013, 2 days to the first anniversary of his coronation.
By the early 1860s the Yoruba Mission established an Anglican church in the town. Today, Saki has grown to become a home to Oke-Ogun Polytechnic, The Kings Poly, Saki; School of Basic Midwifery, Muslim Hospital; School of Nursing and Midwifery, Baptist Medical Centre; Bapist Medical Centre School of Laboratory, among other things.
Saki is an interesting place to be and there are a lot of fun places within the shores of the land.
SOURCE=====. WORDPRESS.COM