By Wahab Oba
Dear esteemed Civil Servants,
Fraternal Greetings, and congratulations on the success of the inauguration of the State Administrative Council, SAC, of the NLC in Kwara.
This time four years ago we faced a moment of decision on whom to choose to lead our state. Today, we are all witnesses to the consequences of that decision -failed promises, phenomenal corruption and unprecedented debt burden; over N60b debt in less than four years.
Four years after, another moment of decision is upon us. When we choose who will be our governor this week Saturday, we should not forget it is a choice we shall live with for another four years before the constitutional opportunity comes our way again.
And so, in making our choice on Saturday, we must look back; look back, especially at the last four years and ask ourselves the very hard question of if it truly has been the wonderful experience that political advertising has presented it to be. We must listen well to our conscience and not allow ourselves to be deceived by the appearance of a sepulchre.
I said we must ask hard questions. We must ask and answer truthfully whether our lots as workers have been better off in this dispensation or if in reality, we are farther back than where we were before the ascension of the incumbent administration.
Looking at the well-researched paper by our immediate past chairman, Alhaji Aliyu Issa Ore, there is nothing to point at, to show that comparatively, our today is far better than yesterday. The Nigeria situation is replicated all over but our plight in Kwara appears even worse. And yet our sincere daily prayers must always be that we shall never have a better yesterday. I still say that prayer for you, may you never have a better yesterday again.
And we can avoid that misfortune if we decide right on Saturday. We must ask the incumbent what he did with all the revenue that came his way yet still could not pay the minimum salary as agreed. Alhaji Issa Ore said so in his speech… that this government is yet to accommodate the local government workers into the minimum wage cycle. As if those who labour at that level are not contributing to the well-being of Kwara state. This same government has refused to give opportunities guaranteed by law to people at the local government to elect their leaders. It is the state that has been managing the local government in defiance of a competent order from the court. And workers in this same setting can't enjoy the same opportunity their colleagues at the state level are enjoying. It is double jeopardy. It is like the saying goes, rubbing salt on a wound.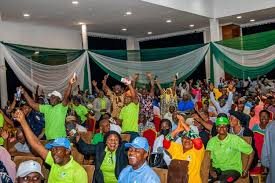 Still, on local government workers, the NLC boss made us understand that they are not being considered for promotion to the rank of Permanent Secretary even when they are invited for the qualifying exam and they pass! In other words, the rights of local government workers to aspire to the peak of their career is limited by the administration.
Must we continue this path? If this is our story for the last four years, we need to ask that hard question more so now that we have an opportunity to right the wrong decision of 2019.
I'm raising this issue of a hard question because there are rumours that the administration, out of desperation, has embarked on a "buying spree", trying to buy some people who have a significant influence on how we decide our vote on Saturday, while retired civil servants in the last four years have not been paid their hard-earned legitimate entitlement. This is the same government that has not completed any major project in the state to attract the presence of the outgoing Nigeria President.
Sadly, a government that refuses to pay workers their entitlement will be doling out a humongous amount of money a few days before the elections. If the story is true, then it is a pointer to what will happen if they win again. But, like we now commonly say, let those people collect the money, but let us vote by our conscience.
Can this government ever implement the full N30,000.00 Minimum Wage/Consequential adjustment to Pensioners in the State and Local Government after it failed to do so in the last four years?
I dare say that it will be worse than the first four years if we elect them again. We must not go that route again. AbdulRahman AbdulRazaq is a disaster to our state.