Earlier today, Social Democratic Party's candidate for Ilorin East/South Federal Constituency, Hon. (Dr) Abdulganiyu Saka Cook-Olododo officially flagged off his campaign at Fufu, Akanbi ward 1 and headquarters of Ilorin South local government. He later proceeded to Magaji-Ajomu in Akanbi ward 2.
Hon. Olododo, before proceeding to venues of the carnival-like campaign rallies to address party faithfuls, supporter and community stakeholders, paid homage to traditional leaders in various communities in Akanbi wards 1 and 2, which includes the Alota of Ilota, Daudu and Baale of Fufu, Magaji Isokun-Olopon and that of Magaji-Ajomu.
The lawmaker also seized the opportunity to commission solar-powered boreholes he facilitated at Kawu (Akanbi 1) and Isokun-Olopon in Akanbi 2.
While canvassing for votes from people of the various communities, Olododo urged the people to compare the positive impacts of his representation in the rural areas to what those who have occupied same position in the past were able to do and they would realize that he has been able to break unprecedented records.
The traditional rulers in their various remarks attested to the unprecedented impacts of Olododo's representation, from various empowerment programs, to facilitation of streetlights, solar powered boreholes, school renovation projects and most importantly, sponsorship of the Federal Medical Centre, Fufu establishment bill, which awaits presidential assent.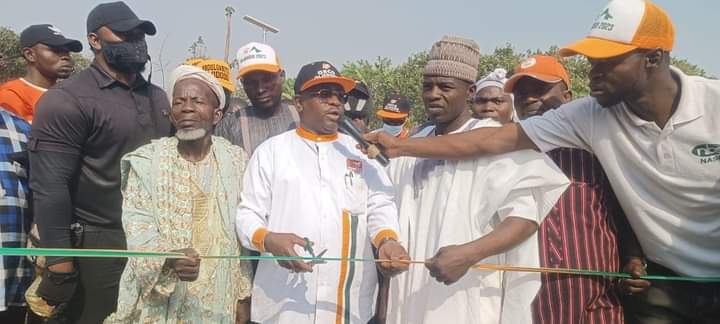 The Royal fathers also affirmatively declared support of their various communities for Hon. Olododo and the SDP, stressing that it is their belief that the emergence of the Party will engender sustainable development of the area, giving the precedence set by Olododo.
The Alota of Ilota in his remarks, said "We have felt impact of Olododo's representation and we are going to repay him with our votes. Insha Allah, you will win. I also pray all the candidates of your party wins."
Daudu Fufu, for his own part, said "I thank Olododo a lot, for the unprecedented developments that has happened during his representation of the federal constituency.
We are happy about the FMC and we are anxious to witness its kickoff. I pray God backs you to be re-elected into the House of Reps, as we believe it will enable you complete the good job you've started.
The traditional head of Isokun Olopon is for Olopon appreciated Olododo for being a 'talk and do', and not a promise failure, declaring that 'Isokun-Olopon is for Olododo'.
Youths, women and aged people who took turns to make remarks at the campaign rallies declare total support for Olododo's reelection and pledged to repay the immense benefits they have enjoyed under his representation with massive votes, come February 25th, 2023.
Olododo went on the campaign rallies in company of the SDP Candidate for Kwara Central Senatorial Candidate; Dr. Ridwan Apaokagi and Kwara state House of Assembly candidate for Ilorin South; Issa Alfulani.