By Comrade Gesua Yekini
One of the major reasons Nigeria has not made much progress since the return of democracy in 1999 is that the electorates keep voting in incompetent people to manage its national affairs either at the Executive or Legislative level, while those who have the requisite capacity either stay away or are shunted out.
It is time to go beyond unremarkable considerations like religion, ethnicity, inducement and sensational promissory notes and place emphasis on the political attestations of various candidates in arriving at our choice in the 2023 general elections if we must achieve the desired development for this country.
All voters in Kwara Central Senatorial District must share a common interest in maximizing the quality of our representative in the Senate House. If we act on this interest when evaluating candidates, then the electoral system will function with a collective sense of rationality. Those who lack competence or integrity will be voted out, whereas skilled and principled candidate will be voted in. Quality, competence, value and integrity scores should be used to assess candidates quality within the electoral system.
As posited by development experts and policy analysts, the quality of legislation made by the Parliament/National Assembly has a direct relationship with the sort of governance the Executive arm will offer the country in a democratic government, assuming all other allied factors are constant. That's, good governance is predicated on sound legislations and good policies. Only competent hands can offer good policies and sound legislation. This should be the focus of Kwara Central as the race to the 2023 election gathers momentum.
The people of Kwara Central should not vote for a representative that would be dormant in the Senate. The fact is incontrovertible that most of the political parties' candidates vying for seat in the Red Chamber have been identified with incompetence and lacking capacity to sustain the quality representation of the incumbent, Senator Yahaya Oloriegbe representing the District at the Upper Chamber of the National Assembly.
Senator Oloriegbe had maintained his position that if Kwara Central people want to feel legislative impact comes 2023, they should not vote for candidate of his Party, APC because he lacks the experience and political competence to perform as a first timer in the National Assembly without any political records.
I've just realised that Senator Olorigebe is a responsible Senator who wants progress for Kwara Central. Omoluabi Bolaji Abdullahi in the 10th Senate will continue where he (Oloriegbe) stops to make our Constituency a better and livable place for all. This, incidentally, is an affirmation of Mallam Bolaji Ganiyu Abdullahi who had served this country as a Minister, Commissioner and in various capacities.
We have learnt our lessons from voting candidates based on primordial sentiments and emotional cogitation of tribe, religion and wealth. I am convinced beyond all shadows of doubt that Kwara Central will stick with competence and proven track records of various candidates in making our choice of candidate, to support and vote for, in the 2023 election, rather than other mundane considerations.
Most importantly, we needs a Senator who will leverage his vast experience and intelligence to expedite development of the Senatorial District and turn it into an investment haven going by the abundance of material and human resources in the district. Not somebody who spends his life just thinking about oppressing people and suddenly decides that okay I have enough money I can now lead people.
We expect to see a man who has a clear vision of how to move the Kwara Central forward with ability to realise the vision of our founding fathers. If you ask me who that could be, I would not hesitate a second to present to the District, Mallam Bolaji Abdullahi, the founder of Omoluabi Foundation, as the best fit for the job. Again, if you ask what about him? The simplest answer is: check his track record in the last couple of years. He will do much more than that if given the chance in 2023.
As the preparations for the 2023 National Assembly election begin to gather momentum, it's imperative to, once again, remind the people of Kwara Central that they need to elect a man of competence and brilliance with proven records of high-flying performance, be it in the private or public sector, as the Senator representing the District. It's high time the electorates in the District jettisoned money politics. We need a man of sound mind and capable hand in the Senate to represent Kwara Central.
To this extent, we must interrogate diligently the capacity based on proven past capabilities of the gladiators in the race to the National Assembly. Once the parameter of competence ranks highest in the components of factors for consideration, then the PDP Senatorial Candidate is as good as emerging victorious in the race.
It's beyond debate that competence is key to achieving results in any sector whether at the national or subnational level. The job of lawmaking at the highest level is not for below-average thinkers and Class D candidates who are hiding under the guise of philanthropist and continuity to mask their rank incompetence, deficient mental capital and poor ethical standards to sell their candidacy.
This country needs to be led by technocrats who have been given political authority to execute reforms, technocrats who have vision, and technocrats who care about the country. There are some very basic fundamentals that have to be present in a political leadership. You must have a certain level of economic knowledge for a country like this, otherwise, nothing will happen and that's why we've been going backward in time.
Taking stomach infrastructure every four years doesn't take us out of poverty, it doesn't give us better hospitals, it doesn't give you better roads, it doesn't give our children jobs after graduating from colleges. Unless we set ourselves free by moving away from the politics of stomach infrastructure toward the politics of mental infrastructure.
I remained positive that with these laudable credentials, among numerous others of PDP Kwara Central Senatorial Candidate will not hesitate to give him bountiful votes for his victory come 2023.
Looking at the antecedent and track record of what Omoluabi has done in the past, you will see courage and commitment, integrity and resourcefulness. As a season Journalist, he worked in one of the nation's leading newspaper, ThisDay Newspaper and rose from a reporter to the position of Deputy Editor of the newspaper within 5 years, during which he wrote over 500 newspaper articles. However, it was for his column on the back page of ThisDay that he was most known for.
In 2001, won the British Government scholarship, the Chevening Scholarship, to study for a Master's Degree in Governance and Development at the world famous Institute of Development Studies of the University of Sussex, where he graduated with distinction in 2002.
In 2003, he began his career in public service when he was appointed Special Assistant on Communication and Strategy to the then Governor of Kwara State, Dr. Bukola Saraki. While serving as Special Assistant, he organised the first ever Kwara State Education Summit, which pushed the problems of public education in the State to the forefront of the political agenda. In 2005, he was appointed Special Adviser on Policy and Strategy.
However, in recognition of his outstanding passion for education development in the State, he was appointed Commissioner for Education in 2007. As Commissioner for Education he led one of the most ambitious education reform in Nigeria with the flagship programme, Every Child Counts, which remains a reference point for similar initiatives in the country.
In 2011, he was appointed Honourable Minister for Youth Development by President Goodluck Jonathan. In that position, he embarked on a reform of the National Youth Service Corps, NYSC. It was the first of such reform since the programme was created in 1973. However, in 2012, he was drafted to oversee the Ministry of Sports in addition to his Youth Development Portfolio. Within a short time, he brought order and stability to the otherwise riotous sports sector, especially the Nigerian Football Federation, which had been badly affected by in-fighting and litigations. In recognition of this efforts, he was soon made the substantive minister of sports and chairman National Sports Commission.
As the Minister of Sports, in 2013 he led Nigeria to win its first African Cup of Nations in 19 years. The same year, he led the National Under 17 Team to win the Under 17 World Cup for a record fifth time. He has also been credited with the revolution of the Nigeria Premier Football League, with the creation of the League Management Company, which signed an unprecedented broadcast agreement worth $4 million with DSTV/Super Sports in 2013.
A professional journalist, Abdullahi has a unique portfolio of experience that cuts across media, civil society and public service. In between his practice as journalist, he worked for two years as Director of Publications and Programmes at the continental civil society organisation, the Africa Leadership Forum founded by Nigeria's former President, Olusegun Obasanjo. In a working career that has spanned over 19 years, Abdullahi has developed an extensive network of contacts and professional relationships in the media, civil society, international development agencies and governments at all levels in Nigeria.
He has at various times attended courses at the Kennedy School of Government of the Harvard University, USA (2010); Ashridge Business School, Berkhamstead, UK, (2009), World Bank Institute, Washington DC, USA (2008), Hetta International Development Centre, New York, USA (2005) and Theodore Heuss Academy for Leadership, Gummersbach, Germany (2000); Santa Barbara Writer's Conference, Santa Barbara California, USA 2019; and Engaging Evidence for Policy and Planning, Institute of Development Studies, University of Sussex, 2019.
A writer, thinker and problem solver, Abdullahi has written two books- On a Platter of Gold – How Jonathan Won and Lost Nigeria and Sweet Sixteen, a young adult novel currently used for JAMB Examination. He is also the chairman of the Omoluabi Foundation, a Non-Governmental Organisation based in Ilorin, Kwara State which is focussed on youth development through sports and extra-curricular activities. The Foundation has sponsored annual handball competitions in the State, it has also supported Karate, table tennis, among others.
In 2014, Omoluabi Foundation partnered Super sports to launch the Let's Play initiative in Kwara State, and event that brought over a thousand kids into sports.
Kwara Central people know that more than ever we need someone who can lead us to quickly rebuild the Senatorial District and create economic opportunities for our people. Only a competent, experienced, visionary and dedicated leader can do that. Somebody who is forward thinking and has a track record of performance.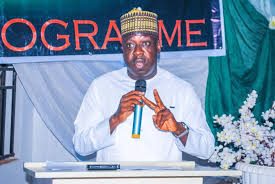 Comrade Gesua Yekini is a former Chairman, Radio, Television, Theatre, Arts Workers Union (RATTAWU), Kwara State Chapter.