By Bayo Arashi
Harvard Polytechnic, Ilorin, Kwara State has matriculated about 400 students for the 2022/2023 academic session.
The ceremony which was held on Saturday, 28th January, 2023, was the second Matriculation of the Institution.
Speaking at the ceremony, the Rector of the Institution, Dr. Ajibade Obasanjo urged all the students and staff of the Institution to ensure that their contribution towards the growth and development of the Institution is paramount, which he said will take them to greater heights to become the leaders of tomorrow.
The Rector stated further that integrity and discipline with quality of standard education shall continue raising in the Institution and urged all students to always ensure compliance with the rule and regulation of the Institution for better results oriented
He concluded by announced to the Public that within short period of time of establishment, Harvard Polytechnic has been fully accredited by Government and approved with NTBE.
In his speech, the Hon. Commissioner for Tertiary Institution, Kwara State, ESV. Dr. Abolore Affes Alabi who was ably represented by Dr Oguntunde felicitated with the Institution and commended the roles played by the Institution towards contributing to the development of the state academically and promised to always support the Institution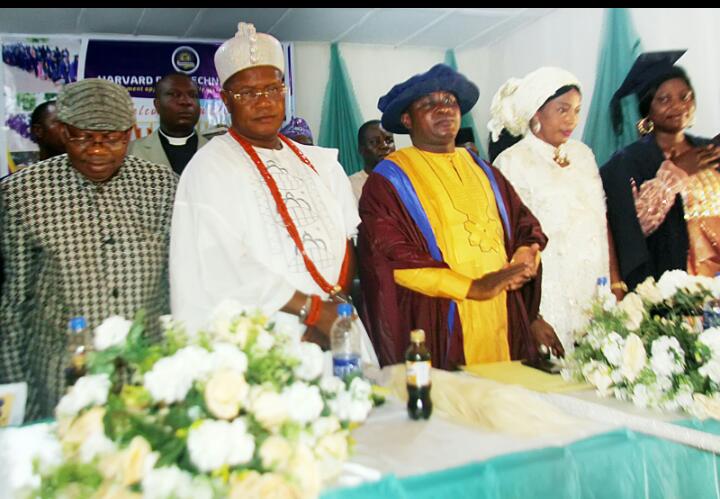 Dr Oguntunde also urged the Institution to raise a new generation of leaders through a qualitative and life applicable training system that focuses on value and skill development among others.
The Registrar, Dr. Ake Josephe Olusiji presented the newly elected Students Union Government Executive Members to the School with an Oath while Comrade Mistura Sikirullahi, Estate Management and Valuation Student/Chairman, Electorial Committee presented the Certificate of Return to all the Executive Members.
The Royal Father of Ganmo, Alhaji Abdul-Yekeen Kolawole, Oniganna of Ganmo also gave a fatherly advise to all students and the school management with support of spiritual prayers.
"Today, With what happened at Harvard Polytechnic, the school has assured us that It will be producing the most resourceful and responsible graduands to the society", his Royal Father said.
The event was successful with the presence of some dignitaries such as Prof. Amos Sesan Idowu, Chairman Governing Council; Prof. Lateef Lawal Adefalu, Chairman Academic Board; Mallam Muhammed Kudu Musa, Rep. Ministry of Education; Mrs. Taiwo Ajibade, Bursar; Mr. Taiwo Odunniyi, Director of Student Service; ESV. Bayo Arashi ANIVS RSV, Lecture Estate Management and Valuation Department; CAN Chairman, Kwara State Chapter Rt. Rev. S.G. Adewole; Radio Presenter/MC, Opa Sobi among others.