The Social Democratic Party (SDP) candidate for Ilorin East/South Federal Constituency, Hon. (Dr) Abdulganiyu Saka Cook-Olododo has concluded his campaign rallies across the 23wards of the Federal Constituency, amidst resounding reception across board, with assurance of victory from indigents, residents, traditional rulers, stakeholders and community leaders.
In a statement by the Director Media and Publicity of Ganiyu Saka Cook-Olododo Campaign Council (GSCCO), Ibrahim Sheriff, the campaign which kicked off on Sunday 12th February, 2023 at Akanbi wards 1 & 2 of Ilorin South LG, rounded off at Aare ward 1 and Okelele in Ibagun ward, the country home of Kwara SDP Gubernatorial candidate- Alh. Hakeem Lawal and that of Hon. Olododo, respectively, on Tuesday 21st February.
The venue of the final campaign rally in Ibagun was filled to the brim, with thousands of people chanting "Ododo", attesting to the impactful representation and public service of Hon. Olododo.
In his address, the Governorship candidate of SDP, Lawal said Olododo is a good ambassador of the SDP and his impactful and people oriented representation is a reflection of what the people would enjoy if the party's candidates are elected, across board. He also thanked the people for giving SDP Olododo, noting that he has done incredibly well.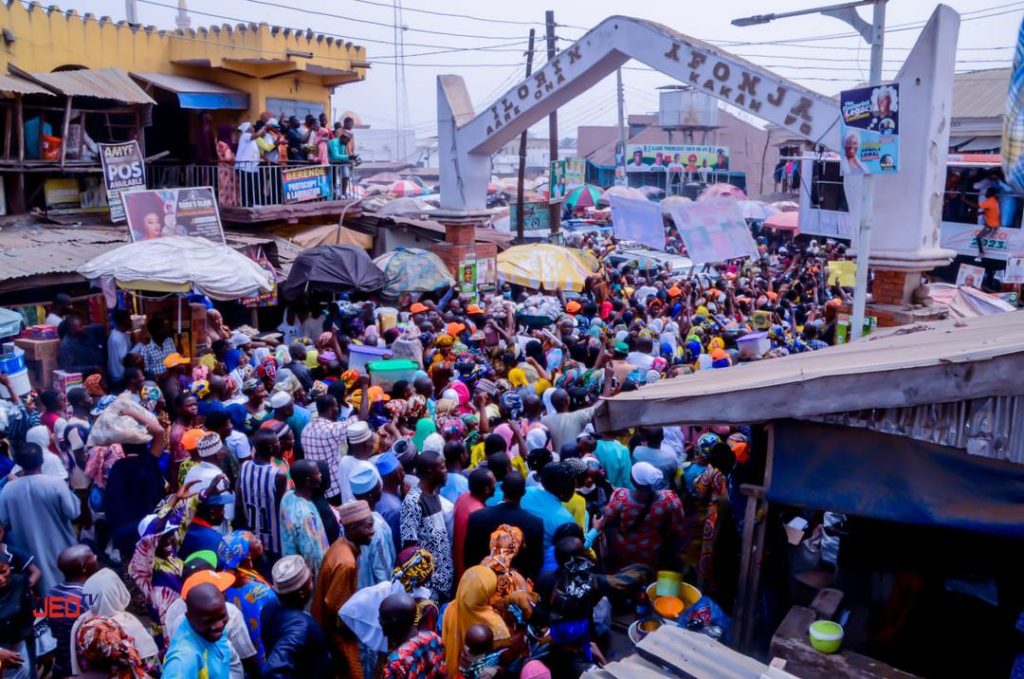 Olododo in his remarks thanked the people for the overwhelming love and support they have shown him. He noted that "in my public life, I am always guided by the imperative of making my people proud and I am glad I've not disappointed you. By the grace of God, we shall succeed and I will never disappoint you.
"They will come to hoodwink you with money and tell lies to you because they have nothing good to offer. Stand firm with your resolve to vote SDP candidates. don't sell your votes to political scavengers. The election is not just about me, it is about the development of our constituency. Go out early on Saturday with your PVC and cast your vote for me, white horse is our party's logo. That's where to vote", he added.
Before proceeding to the various campaign rallies, Olododo in company of the SDP gubernatorial candidate – Lawal had visited the courts of the Magaji Aare – Alh. Shuaib Subair and Baba Isale of Ilorin – , as well as the Alangua of Ibagun and Baale of Dada for royal blessings and presentation of a compilation of Olododo's stewardship in political offices, titled 'So far, So Good'.
The Magaji Aare and Baba Isale in their separate remarks prayed for the success of the SDP, noting that the party's candidates are known illustrious sons of soil whom they believe would not disappoint them if elected into public offices.
In their separate remarks, the Alangua of Ibagun and Baale Dada, Mallam Sakariyah Iyanda (Ilufemiloye) and Alh. Abdulrahman Ajadi attested to the impactful representation of Olododo, which has fetched the community a police station, roads and water projects, public lavatory among others.
The traditional leaders therefore enjoined the people to show appreciation to Olododo and the SDP in the coming elections, with fervent prayers that the party's candidates emerge victorious.
Community representative, Alh. Saka Karufi in his submission said "We thank you, Olododo for making us proud and not bringing us shame as a people. We are indeed proud of you.
"You have not abandoned us for once as your own people and we will not abandon you in the coming election. We indulge our people to vote massively for our son who has made us proud on Saturday", he added.