For Nigeria to take its rightful place among the comity of nations, Nigerians must edify, protect and promote the class of persons of high integrity, personal and professional achievements.
Kwara State governor, AbdulRahman AbdulRazaq, made this recommendation in a key note address he presented at the 12th convocation of Fountain university, Osogbo, Osun State.
He noted that Nigerians have through the celebration of persons of doubtful sources of wealth and pedigree, have by default impressed it upon the youths the acceptability of wrong role models.
AbdulRazaq who spoke on the topic, "Role Modelling In Career And Politics : Challenges To The Nigerian Youths", said Nigeria,as a country needs to to reverse the descent into the abyss of declining moral and core ethical values.
Represented by his Special Adviser on Politics, Alh Saadu Salahu, the governor said that a society where respect and social prestige are accorded to wealthy individuals, irrespective of the way they made their fortune is a disaster waiting to happen.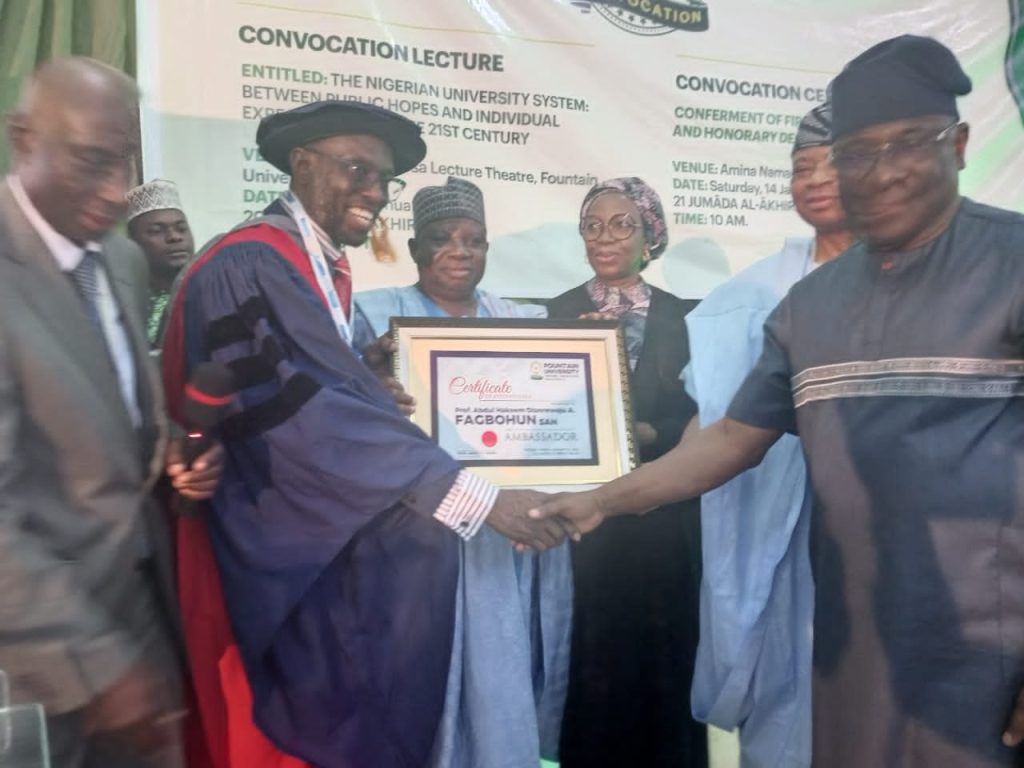 " In our society the ideal values for all to live by are honesty, humility,respect for elders, institutions and authorities, discipline, courage, self – reliance, hard work and the pursuit of knowledge.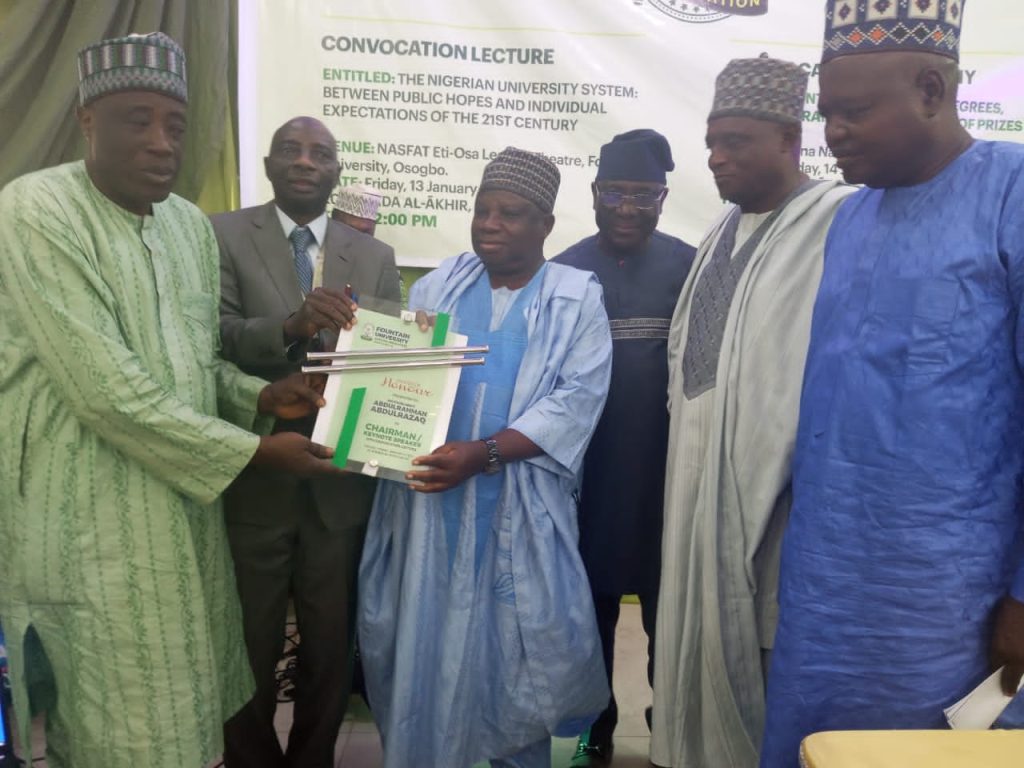 "To sustain these core values, we must edify, protect and promote the class of persons of high integrity, personal and professional achievements. These personalities naturally serve as role models whose qualities inspire our youths and their immense capacity to positively impact on our youths cannot be underestimated," the governor stated.
AbdulRazaq who listed some finest Nigerian role models to include the late Prof Babs Fafunwa, the late Funmilayo Ransom- Kuti, Margaret Ekpo and the late Hajiya Gambo Sawaba, pointed out that:" Most importantly, traditional moral values and complementary conducts exemplify the role models, not the wealth or the offices that they occupied. It is the aggregation of these two – to with , character and conduct , morality and intellect- that stood out the Nigerian culture and Nigerians in the global community."
On the declining Nigerian culture, the governor said:" The gradual decline of discipline because of factors like emphasis on wealth rather than integrity , abuse of internet sources , uncensored movies and music amongst others account for these negative developments."
AbdulRazaq who said he's a politician with an ambition to bring the greatest good to the greatest number of the people of Kwara State, expressed delight that: " It is on record that Kwara State is the first state that has attained 52 percent gender inclusion in political appointments in Nigeria. For instance,we have the youngest state Attorney General and commisssioner for Justice as well as the Communications commisssioner.
"We are not perfect, but these modest achievements in less than four years across all sectors have been officially acknowledged by the United Nations Development Agency, UNICEF, UN Women, LEADERSHIP Newspapers, Business Day, Blueprint Newspaper, and recently Vanguard Newspapers. In all of this, we were honoured for our investments in basic education, health, gender inclusion, social safety nets for the poor, infrastructural development and prudent management of resources
In his remarks,the vice chancellor of Fountain University, Prof. Amidu Sanni, commended AbdulRazaq for his giant strides in the education sector.
He later presented an award to the governor. A university don, Dr Ghali Alaaya, special adviser on Political Communications, Alh Bashiru Adigun and special assistant on Religion (Islam), Alh Ibrahim Danmaigoro joined the governor's representative to receive the award.